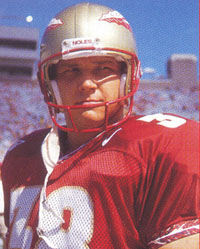 The Noles didn't play this week, but my Dad still followed all the action of college football. Here's his opinion on everything that happened this weekend, as well as a primer of the Thursday's big match up against Louisville. Enjoy!
The FSU haters in the media have the Noles on upset alert in

Thursday's

game at Louisville. Do they present solid reasons for this bold prediction? Well, no, they just cite UL's 6-2 record. Were those six wins against quality opponents? Well, no, they beat Miami which is 5-3 and will finish about 7-5. Their other victories came against Murray State, Florida International,Wake, Syracuse and NCSU; hardly a murderers row. Do I realize that the game is on the road on a

Thursday

night? Well, yes, but unless they will employ Australian football rules, what does that matter? It is a road game. We have won 23 straight and approximately half were outside of Doak Campbell Stadium. What does Las Vegas think?FSU is favored by 7. Let's look at where the teams stand at this point. UL has a good defense but it is not equal to that of Notre Dame and Clemson. We beat Clemson without Jameis and, once the OL settled down, Jameis and the offense had their way with Notre Dame. The line would have clicked in the second quarter if Coach Trickett had been on the sideline. We will score over 35 points on Louisville as long as Jameis is in the game.  FSU's defense has been improving weekly and I expect it to continue to do so at UL. Louisville has had a very average offense so far this season. They will have Dyer at RB and their best WR, Devante Parker, returns from injury against FSU. Their QB, Will Gardner, is a pocket passer which will allow FSU to bring far more pressure than in recent games where they had to deal with QBs who were a legitimate dual threat. I expect FSU to hold UL to 21 points or less. If the Noles play just a little better than they played overall against ND, we will win by 10 or more. If they play as well as they played in the second half against ND, they will win by 21 or more. Only a lack of focus and multiple turnovers (think first half at NC State) could lead to an upset.

While you will not hear about it on ESPN, the worst behaving QB, when on the field, is Ol' Miss QB Bo Wallace. ESPN kept their cameras off him last night as much as possible when he was on the sideline taunting the crowd but many photographers caught it. Web sites, like College Spun, are telling the story. ESPN also glossed over his head butt penalty in the third quarter of the game which was critical. Contrast that to the way they have a camera focused on Jameis every moment on the sidelines and on the field looking for something with which to blast him.

You know that the brass at ESPN is feeling the heat about their blatant bias toward the SEC when they roll out their big guns to take shots at those of us who have been pointing out the obvious. Yesterday, on Game Day, Chris Fowler called us "stupid and uninformed". Brent Musburger at least owned up to the bias and ordered us to "Deal with it!" That is exactly what we are doing when we inform you that ESPN has invested heavily in the SEC Network and intends to do everything in their power to maximize their return. That includes trying to get 2 or 3 SEC teams into the Final Four. The more favorable exposure the SEC gets, the better the bottom line looks for ESPN.

Do you suppose that Stephon Diggs regrets his decision to stay home and play for Maryland when he was leaning to heading on down to FSU. If he were catching passes from Jameis, he would be a Heisman Award candidate. Yesterday, he had to make a highlight reel catch in the end-zone to prevent the Terps from being shut out by Ohio State 52-0.

Texas looks really bad right now, but mark my words, Charlie Strong will turn them into a contender for the Final Four in 2016.

The folks on the west coast might as well accept the truth. Oregon's defense is too porous to win in the playoffs. When Cal can run it down your throat, you do not want to go up against a strong southeastern running attack.

The wear and tear of the season has taken its toll on UVA. When they beat Louisville at the start of the season, their defense looked very good. Yesterday, they lost to a poor UNC team 28-27.

Can you imagine what ESPN would do to FSU if Sebastian Janikowski were on this year's squad? His brawls and partying here in Tallahassee during the '90s are legendary in a school that has seen hall of fame party guys over the years. Jano apparently has not changed out in Oakland. When asked who was the wildest guy she ever partied with, Brook Haven, replied "Sebastian Janikowski and whoever was in second place was not even close".